Top Off Page SEO – What is Off Page SEO Techniques Guide 2019 {Updated}
Off
Page
SEO is the biggest techniques of getting good ranking on google search engine ranking posting.
This technique will help you in good ranking but also increase good quality referral traffic.
But days google algorithms having a close watch on Off Page SEO Techniques. So that we have to pre-decided clear Off Page SEO strategy for your band.
You can not start listing your brand on a random website.
You must have a plan because you will not get quality traffic (industry relevant websites) & your domain name will not point out by other good domain authority website.
I hope you get shot info about Off Page SEO Techniques.
This article "Off Page SEO – Best what is Off Page SEO Techniques Guide 2019" will help to increase ranking in Google SERP.
So friends, keep reading my blog which will give a clear idea about on below things.
What is SEO?
Type of SEO.
what is Onapge SEO?
what is off page SEO?
Why is Off-Page SEO important?
What are the benefits of 'off page SEO' to website owners?
Conclusion
So, let's talk about from start.
What is SEO?
SEO denoted as a Search Engine Optimization. SEO is a technical process for optimizing a website for search engine.
It helps to rank in google search engine by using of on page & off page technique. It is important to every single business.
Many people or client ask me "Why should I do SEO?, What are the benefits of SEO?
Friends, I'll answer these questions end of this article. Let's understand about SEO first.
Type of SEO.
On Page SEO
Off Page SEO
What is On-Page SEO?
On Page SEO is all about optimizing website pages with below-following SEO techniques for Google or other search engines. Below I'm proving the complete tips of On Page elements which will help you to increase the ranking of your website.
Page Title
Page Description
H1 Tag
Alt Tag
Internal Links
URL Structure
Breadcrumbs
404 Page
Broken link check
301 Redirection
Page Speed
XML Sitemap
Robot.txt
HTML Sitemap
Canonical Tags
Content Marketing
Blogs on website
External Links
Keyword Research
Keyword Density
Keyword Variation
Add modifiers (Best, Guide, Year, Top 10 etc)
Schema Markup
LSI
Social Sharing Buttons
Responsive
Render Blocking Resources
SSL / HTTPS
AMP
Site Structure
Panda Risk Assessment
Encourage Engagement
Bounce Rate
Google Analytics Code
Google Webmaster Tool Code
CTR Through Rate
Traffic
Time Spen on the website
Bounce Rate
Platform Concerns
Search Box
Quick Links
Local Pack
Image Pack
Open Graph
Below image will help you understand whatever you just read. Just have a close look at this image.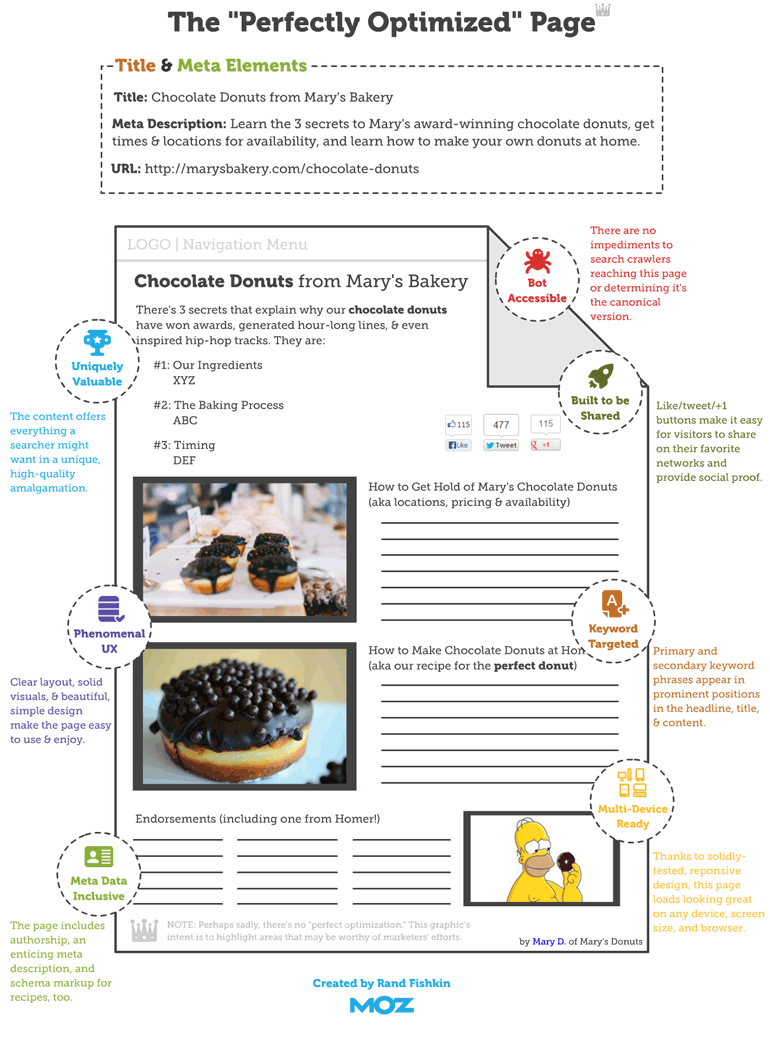 What is off page SEO?
Off-Page SEO refers to techniques that can be used to improve your brand position in Google SERP.
Off Page Seo refers that you are doing different activity away from your website which helps to improve in a ranking of keywords.
I have given you an important factor of off page SEO. 
Linking Domains – How many domain pointing to your domain one of the important ranking factor. During our link building process, we must take care of that this thing because it helps in ranking.
Linking Pages – Linking a domain to your website. This could be another ranking factor. If link more pages within the website. It will always to rank in Google SERP.
Pagerank of Linking Pages & Linking Domain Authority – All pages cannot be equal so that each page has own limitation. If link higher page rank pages rather than link low PR rank. There will more changes to rank in Google SERP.
Link  Relevancy – Few SEO geeks believe that if you are getting a link from relevant pages to your website pages. This also can help in ranking.
Links from Hompage – Few SEO Expert links me believe that getting links from a homepage of a linking domain carry more strength than those on one of its pages.
No. of Dofollow & Nofollow Links – Google officially declares that they don't count no follow links but do follow link could affect your ranking. So guys & gals I would like to suggest that go for do follow link instead of no follow a link.
Social Signals – I personally believe that it helps in ranking directly & indirectly. Why I'm telling it helps because it is an identity proves of your presence on a different platform. It helps to trust you that this business or person actually present.
How it helps in ranking factor –
How many people like your brand on Facebook.
How many people share facebook post.
How many Twitter followers you have.
How many tweets mentioning your brand name or including a link to your website.
How many people that "have you in their circles" (Google+)
Reviews – If I talk about recommendation it always matters. If I talk about layman buy something and his experience is good with it.
He might leave a review on the local page, facebook pages. It also helps to make trust & increase brand awareness.
In India personal recommendations always matters.
Link Anchor Text – Anchor text is another ranking factor in link building. Each link refers particular webpage which related to that anchor text. Below is the graph which will tell the exact story of it.
Off page SEO Techniques 2019
Off Page SEO is a technique which increases keyword ranking & generates referral traffic in search engine ranking page by getting a quality link from a different website. Most of the people think about Off Page SEO is a link building but is more than that.
Below given off page SEO techniques not just helps to create referral traffic, improve ranking but also help to build an online reputation.
So friend please do know 63,832 Google searches in 1-second so that off page activity very carefully with organized strategy.
There are lots of off page SEO Google ranking factors. Check out below SEO terminology. I'm damn sure if you will use the technique. Definitely, it will help to generate the good amount of traffic & ranking
Social Media Engagement
[supsystic-tables id=2 ]
Social Bookmarking Submission
[supsystic-tables id=3 ]
[supsystic-tables id=17]
Content Curation
[supsystic-tables id=14]
Micro-Blogging
[supsystic-tables id=15]
Business Listing
[supsystic-tables id=16]
Forum Submission
[supsystic-tables id=4 ]
Blog Directory Submission
[supsystic-tables id=5]
Article Submission
[supsystic-tables id=6]
Question and Answer
[supsystic-tables id=7]
Document Sharing
[supsystic-tables id=13]
Image sharing
[supsystic-tables id=11]
Video sharing
[supsystic-tables id=10]
Infographics Submission
[supsystic-tables id=12]
Top Off Page SEO - What is Off Page SEO Techniques Guide 2019 {Updated}
Off Page SEO is the biggest techniques of getting good ranking on google search engine ranking posting. This technique will help you in good ranking but al